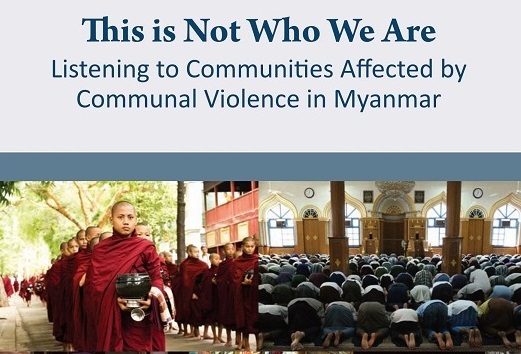 New publication examines communal violence in Myanmar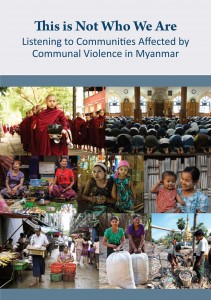 The Centre for Peace and Conflict Studies (CPCS) is proud to announce the release of its latest publication: This is not who we are: Listening to communities affected by communal violence in Myanmar.
Using CPCS Listening Methodology, this publication elevates community voices from six locations in Myanmar that experienced communal violence to reveal a strong alternative narrative to the one commonly heard on the issue.
Conversations were held in November 2014 with 220 community members from Meiktilla, Mandalay Region; Lashio, Shan State; Mandalay, Mandalay Region; Shwebo district, Sagaing Region; West Bago, Bago Region; and Sittwe, Rakhine State.
Community members discussed their perspectives and opinions in light of their experience of communal violence and their hopes and desires for peaceful co-existence in the future. Key topics and themes were identified to form the basis of the discussions, which were then catalogued and prioritised by the listening teams who spoke with the communities.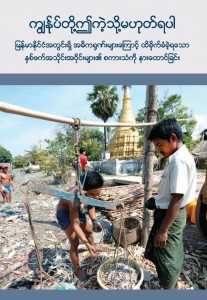 "This is not who we are"
The most recurrent theme from conversations with the communities is "this is not who we are". Communities felt the violence that occurred was misplaced in their communities, and they were passionate to prevent it from ever happening again. They identified prevention strategies and suggested ways for their communities to regain inter-religious harmony and rebuild interfaith relationships.
Other key themes covered a range of areas such as the role of external actors in the conflicts, the response of the authorities, how the incidents affected people's lives, fears and personal security concerns following the incidents, the role of propaganda preceding the violence, conditions in IDP camps, rebuilding efforts, views on how the violence has changed community life, the role of international humanitarian actors and preventing future conflict.
Based on the conversations and analysis, the publication proposes a series of recommendations for the Myanmar Government and non-government and civil society organisations.
This is not who we are is also available in Burmese.