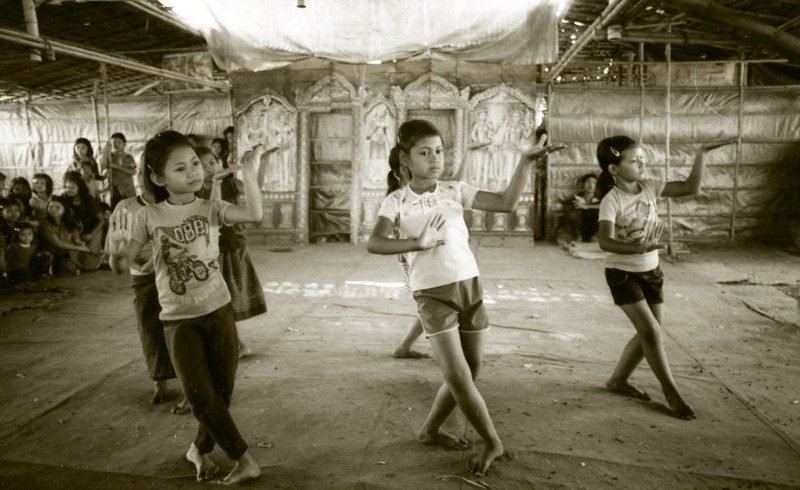 New Peace Museum archives highlight hope & resiliency
In April 2016, the Cambodia Peace Museum – a major project being carried out by the Centre for Peace & Conflict Studies (CPCS) – received archival photographs and journal articles from Doug Hostetter, a US citizen who visited Cambodian schools and refugee camps in January 1980.*
Doug documented his visit to Cambodia through photographs and published a number of articles about the situations and challenges in the country at the time.
He has kindly donated some original photographs from his visit to Sa Kheo Refugee Camp in Thailand to the Cambodia Peace Museum archives.
Reflecting back on his experiences during a recent visit to Cambodia, Doug expressed his personal impressions and optimism about the future of the country in the 1980s.
"Despite the tragedies of the Khmer Rouge regime, I really felt at the time like the country would bounce back once the Khmer Rouge fully fell," Doug told CPCS staff.
Hope & resiliency
Although some of the pictures captured the lives of children displaced into a refugee camp, Doug found these images inspiring and representative of real signs of hope and resiliency among children in Cambodia.
"I was very impressed," Doug said. "For me, I really felt like there was hope for the survival of Khmer culture."
His photos capture a strong spirit among the refugees of celebrating and preserving their traditions following the prohibition imposed during the early stages of Democratic Kampuchea (Khmer Rouge-controlled regime) to recognise or practice Khmer culture.
During this time, many aspects of Khmer culture such as religion, music and dancing were forbidden. Cambodian people were punished for singing or listening to old music, or from 'distracting from rice production' by playing instruments. Musicians and artists were particularly targeted, and many who did not leave the country did not survive this period.
However, Doug's photos capture the joy among children keen to learn and perform traditional dances, play musical instruments and make art such as painting on any available walls.
"We were delighted when Doug made this contribution to the Peace Museum," said Peace Museum Programme Coordinator Nikki Singer.
"At CPCS, we are dedicated to telling the story of Cambodia's journey from conflict to peace by focusing on the unique resilience of the country's people.
"The stories of children learning traditional dances and Khmer musical instruments while living in the harsh conditions of a refugee camp clearly demonstrate this enormous strength of spirit and determination to preserve their culture, in spite of the ongoing conflict at the time."
*A conscientious objector during the Vietnam War, Doug Hostetter did his alternative service working for Mennonite Central Committee in Vietnam from 1966 to 1969. Following his service, he returned to Vietnam several times in the 1970s and 1980s and visited Cambodia during this time. Doug is currently the Director of the Mennonite Central Committee United Nations Office in New York City.
Photo Gallery
Click on any image below for viewing the photos in a larger size.