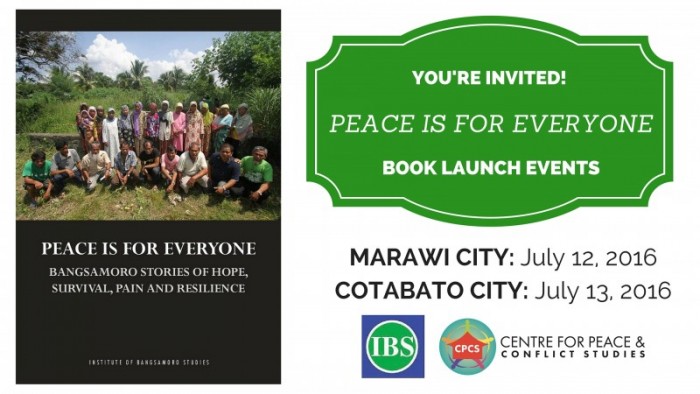 BOOK LAUNCH INVITATION: "Peace is for Everyone"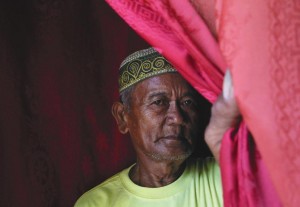 The Centre for Peace & Conflict Studies (CPCS), together with the Institute of Bangsamoro Studies (IBS), cordially invites you to join distinguished guests at the official book launch events for 'Peace is for Everyone: Bangsamoro stories of hope, survival, pain and resilience".
MARAWI CITY
DATE: July 12, 2016
TIME: 9am-12pm
LOCATION: Mindanao State University, College of Hotel and Restaurant Management
COTABATO CITY
DATE: July 13, 2016
TIME: 9am-12pm
LOCATION: Em Manor Hotel, Ibrahim Hall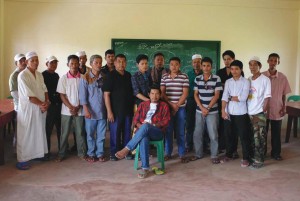 The book gathers the experiences of over 300 men and women in Maguindanao, Cotabato, Sultan Kudarat, Lanao del Sur, Lanao del Norte, Zamboanga Sibugay, Zamboanga del Sur, Basilan, Sulu, Tawi-Tawi, Marawi, Iligan, Cotabato and Isabela.
Weaved together, these individual stories provide a collective account of the Bagsamoro people over the past decades of conflict, their views on the present situation, as well as their hopes for the future.
The book launch events will be an opportunity to listen to voices from the book, as well as key participants in the process of forging peace on Mindanao.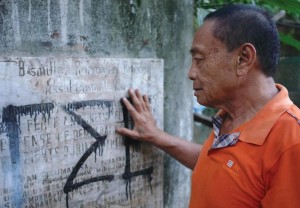 Please visit here if you would like to attend the launches, or contact Sarah Alon Radam at [email protected].ph and Zabra Siwa at zsiwa.cp[email protected] for more information or to register for the events.
READ MORE: http://www.centrepeaceconflictstudies.org/peace-is-for-everyone-bangsamoro-stories-of-hope-survival-pain-and-resilience/
FACEBOOK EVENT PAGE: https://www.facebook.com/events/956621884464954/