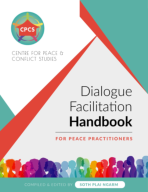 CPCS Dialogue Facilitation Handbook

Author: Centre for Peace & Conflict Studies (CPCS)
Published by: CPCS
Publication date: May 2020
ISBN: N/A
This handbook does not aim to suggest how a dialogue is to be done, but to share about techniques, tips and tricks gathered from field experiences and research. Therefore, it is particularly for assisting trained facilitators with their task to facilitate dialogues, and it can be used as a resource material to train up dialogue facillators. We would not advise that someone can become a dialogue facilitator just by reading this handbook and receives no proper training and coaching. As our experiences reflect, to become an effective dialogue facilitator, one requires more than just natural talents, but also training, experiences and recognition by a wider group of people. Having training is better than just reading books because without proper training the person may make things worse, instead of improving the situation.
The handbook consists of three parts – 1. Concept and Theory, 2. Design, Planning and Preparation, and 3. Characteristics and Techniques. It provides a foundation that every dialogue facilitation skill should contain. We are aware of the importance of pre- and post-dialogue stages, which we did not cover so much in this handbook. However, we encourage facilitators to see dialogue as a process but not an event or a short-term project, to lay the ground work for furture dialogues to happen, to continue to explore answers about what's next after dialogues, and to find how to build on the take-aways of participants and the common ground which they together have discovered. There are valuable things that can be picked from the dialogue and the direct encounter, which will help change the dialogue process.
We strongly hope that this handbook will be useful for practitioners as tools and resource materials in dialogue processes, as we believe that dialogue is one of the best ways to resolve conflicts and attain peace for human society.