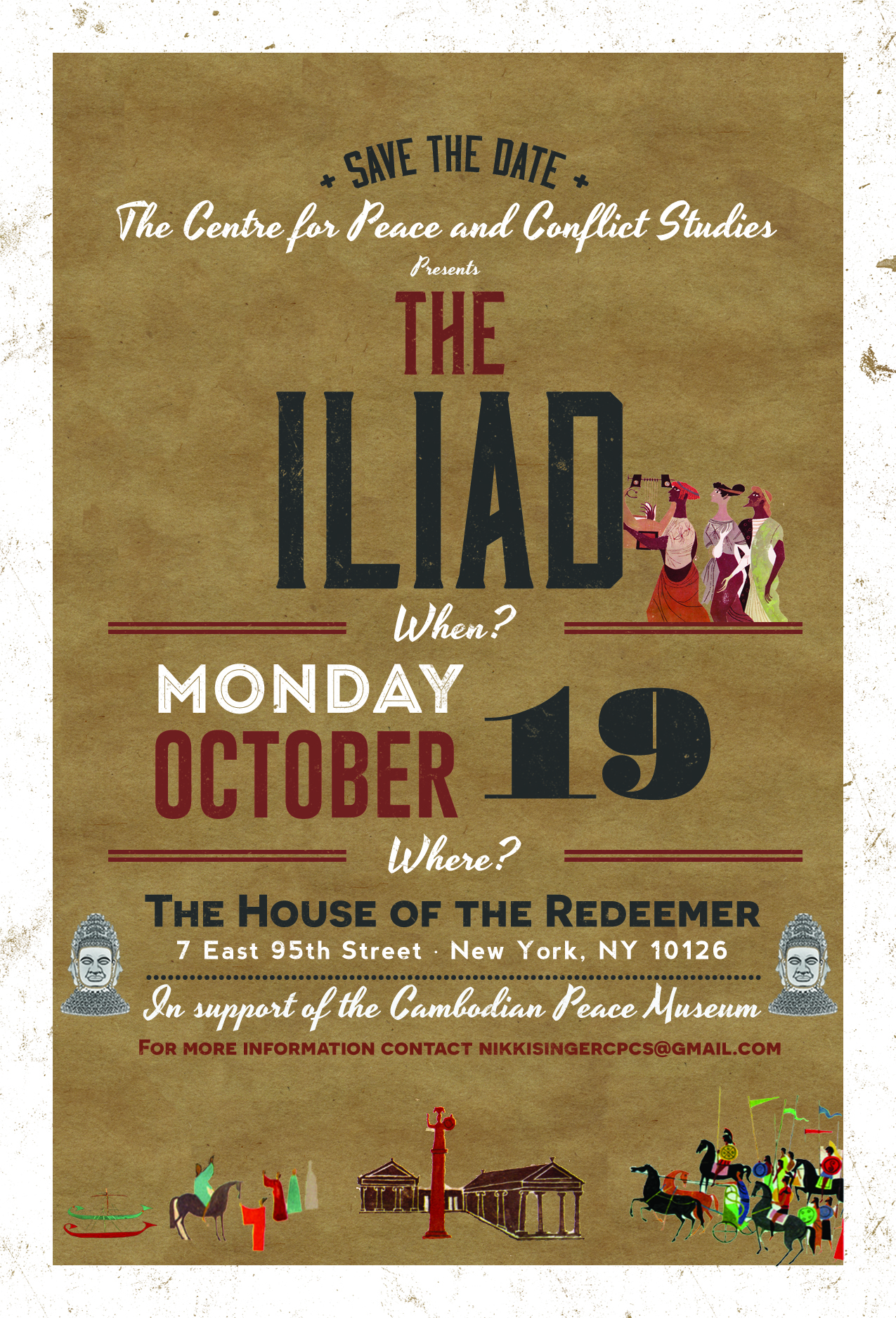 Cambodia Peace Museum campaign kicks off in October
The Centre for Peace & Conflict Studies (CPCS) will officially launch the fundraising campaign for the Cambodia Peace Museum on October 19 with an intimate telling of Homer's Trojan War epic The Iliad at the House of the Redeemer, 7 East 95th Street, New York City, United States.
Often perceived as the greatest war story of all time, this adaptation of the poem, based on Stephen Mitchell's recent translation, tells the greatest anti-war story.
The cast will be lead by veteran Broadway stars Bill Irwin and Dana Ivey and includes New York actors Rachel Pickup, Asher Grodman, Josh Salt, A.J. Shively and Anthony Newfield, with music by Marlon Cherry. The performance starts at 6.30pm followed by a reception with the performers and CPCS representatives.
All proceeds from the event will go towards the realisation of the Cambodia Peace Museum – a major project being coordinated by CPCS.
"We're extremely proud to be associated with this project," said Anthony Newfield, who adapted the poem and directs the performance. "The Iliad is a complete look at what happens in war. From the senseless slaughter and violence to Homer's touching interludes of decency, beauty and humanity, the audience is taken on a powerful journey that explores the essence of war – and peace."
The Cambodia Peace Museum will be built in Siem Reap, Cambodia, close to the famous temples of Angkor Wat.
Using engaging, interactive exhibits to tell the complex history of Cambodia, the museum will tell the and personal stories of Cambodia's most courageous and inspiring peacebuilders. As an educational and experiential space geared towards supporting a wider national healing process, the project will highlight the resilience of Cambodia's people in transforming conflict and overcoming adversity, as well as the nation's potential as a peacebuilding learning centre for its regional neighbours.
"Through contextualisation and explanation, the museum will promote deeper reflection on the root causes of conflict and provide a unique transformative experience for local and international visitors,"said CPCS Executive Director Emma Leslie.
"Our vision is that the museum explains Cambodia's journey and celebrates the work of Cambodians that have helped move the country past war in such a way that visitors are inspired to become actors for peace themselves and apply what they have learned when they return home."
Tickets are $150 and seating will be limited to 100 people. For more information or to reserve tickets, please contact [email protected].