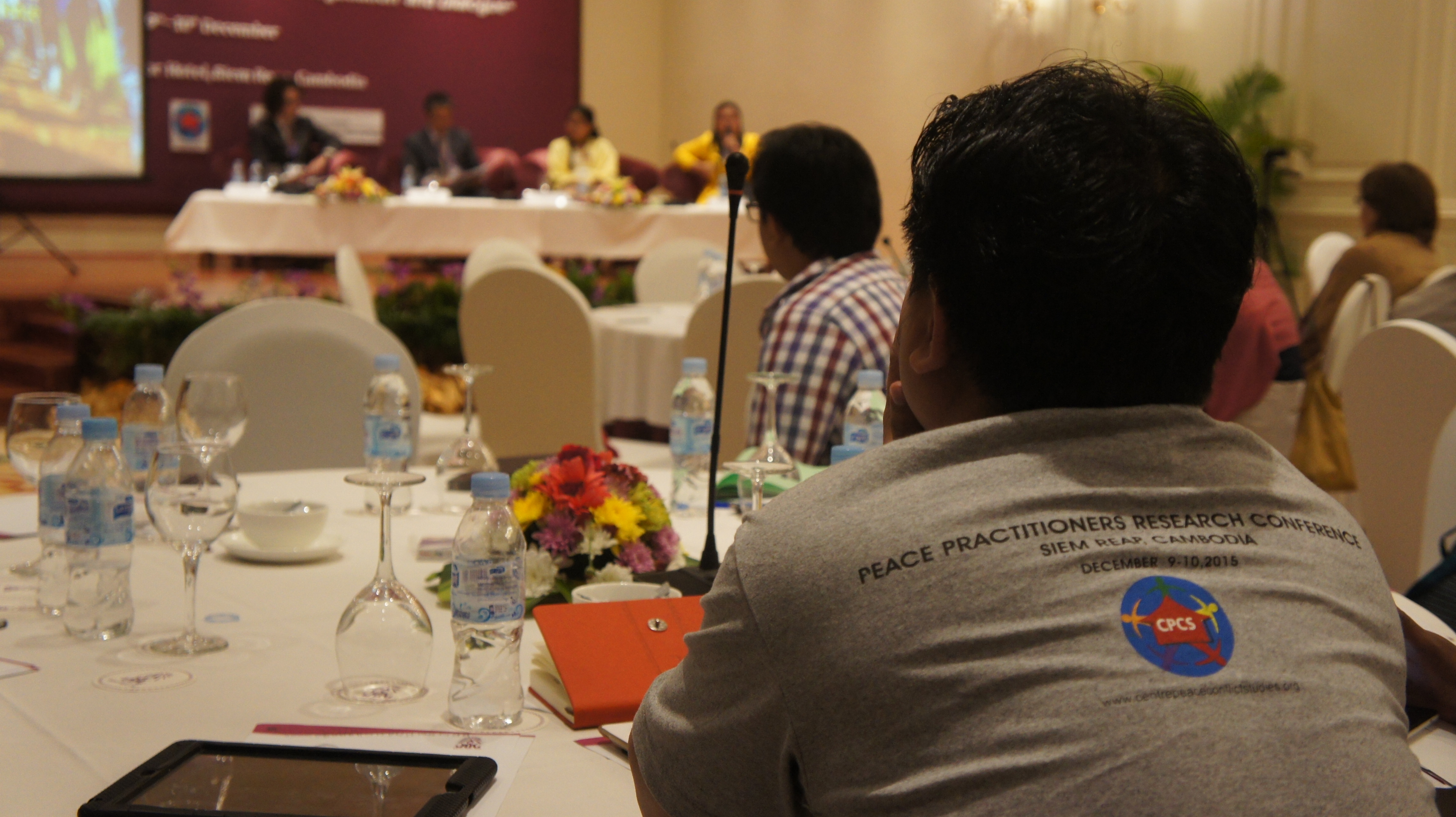 Register for the 2015 Peace Conference!
4th Peace Practitioners Research Conference
Siem Reap, Cambodia
December 9-10, 2015
Learning from Asian practices of mediation, negotiation & dialogue
The 2015 Peace Practitioners Research Conference (PPRC) will bring together peace scholars and practitioners to critically reflect on lessons learned in the areas of mediation, negotiation and dialogue from current peace processes in the Asia region.
Some of the most pressing questions facing scholars and peace practitioners will be discussed over the two days of the conference, including:
What are some of the key innovations in regards to mediation, negotiation and dialogue in the Philippines and Myanmar?
How can we distill some core ideas or principles from these experiences, especially in relation to the role of inclusivity in peace processes, the meaning of local ownership and the insider/outsider roles of the mediator?
How can these points of learning be problematised? What are the key challenges and ways of overcoming them?
To engage these questions, participants will hear from a range of curated voices active in both countries – from outside facilitators to conflict party negotiators, ceasefire monitors, transition commissioners and community dialogue facilitators.
Confirmed speakers
We are delighted to announce the exciting final list of confirmed esteemed speakers for this year's conference:
Keynote speaker Datuk Tengku Abdul Ghafar bin Tengku Mohamed, Malaysian facilitator of the Government of the Philippines and the Moro Islamic Liberation Front (MILF) peace process
Professor Abhoud Syed Lingga, member of the MILF Peace Panel and Executive Director of the Institute for Bangsamoro Studies
Hon. Froilyn Mendoza, represents the Non Moro Indigenous Peoples (IP) for the Government of the Philippines in the Bangsamoro Transition Commission
Dr. Bilveer Singh, Professor of International Relations, University of Singapore
Ja Nan Lahtaw, Director of Nyein (Shalom) Foundation, co-facilitator of Myanmar ceasefire talks and technical advisor of ethnic armed organisations
Patrick Barron, Regional Director for Conflict and Development of the Asia Foundation

Fred Lubang, National Coordinator of the Philippine Campaign to Ban Landmines and Regional Representative of Non-Violence International Southeast Asia

Htet Oo Wai, Director of  Myanmar-based conflict transformation and development organisation Pyi Nyein Thu Kha
Grounded learning
The conference will provide a rich field for analysis, debate and learning, with a wide range of participants using practical examples from the region to articulate, refine and engage different perspectives on dialogue, mediation and negotiation in the Myanmar and Philippines peace processes.
Discussions and exchanges during the event will contribute to a better understanding of the innovations and challenges that characterise emerging peace practices and structures in these two countries.
Research papers are not required for attendance but if you would like to submit research related to the conference theme, please contact the conference organizers at [email protected].
Deadline for papers to be considered is October 31, selected papers will by notified by November 7
Conference package options
The conference proceedings and guest accommodation will be at the Regency Angkor Hotel and three packages are available for participants*.
Option A
Conference Only
$70
Option B
Shared Room
$170
Option C
Private Room
$250
Conference fee
Conference fee
Conference fee
Lunch
& refreshments December 9-10
Lunch
& refreshments December 9-10
Lunch
& refreshments
December 9-10
Dinner & evening entertainment, including transport December 9
Dinner & evening entertainment,
including transport December 9
Dinner & evening entertainment,
including transport December 9
Accommodation
not included
3 nights shared double room accommodation December 8-10
3 nights private single room accommodation
December 8-10
*Please note: participants are responsible for their own airfare to Siem Reap, Cambodia
Payment options
Participants can pay for their selected conference package in cash upon arrival or by transfer to:
Account name: Centre for Peace Conflict Studies
Account No.: 3451- 00- 418988-1-1
Bank name: ACLEDA BANK PLC.
Bank address: Salakenseng village, Svay Dangkum commune, Siem Reap City, Cambodia
SWIFT code: ACLBKHPP
Please include an additional USD10.00 when transferring the payment to cover the local Cambodian bank surcharges (commission fee, stamp, etc). Once payment is completed, kindly email a copy of the deposit slip to [email protected] for our reference.
To register for the conference, complete the registration form and return to [email protected] by November 10 if you would like the accommodation package or November 25 if you are booking your own hotel