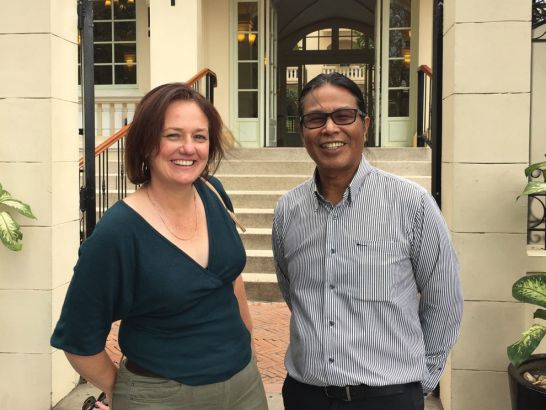 Peace to be focus of new Siem Reap museum
A new museum dedicated to celebrating Cambodia's peace builders is in the plans for the Siem Reap-based Centre for Peace and Conflict Studies.
The organisation's founder and executive director, Emma Leslie, flew out to the US yesterday to kick off the fundraising drive, together with Soth Plai Ngarm, her husband and peace activist, who is a founding member of the Cambodia-based NGO Alliance for Conflict Transformation.
The idea for the museum, which will be called the Cambodia Peace Musuem, came to him during a conference in 2008, and they have been working on its details bit by bit ever since.
"We want to give a more positive perspective for the future," said Ngarm. "There are many institutions that focus on Cambodia's and Asia's wars, but our point is not to compare to other museums but to focus on the positive side of history," he said.
Using interactive exhibits, personal stories, documentary, graphic art, sculpture and more to highlight the resilience of Cambodia's people in transforming conflict and overcoming adversity, Ngarm talked about a virtuous circle in which, by focusing on the more positive elements of Cambodia's history, the healing process for the country and its future can be stabilised and start to feed itself as people's confidence grows.
The starting point will be the Paris Peace Accords, signed in 1991, that brought a final end to the Cambodia-Vietnam War and Vietnamese occupation of the Kingdom.
It also lay the groundwork for the UN to come in and oversee Cambodia's first elections in more than 20 years, in which more than 80 per cent of the eligible population turned out to vote despite enormous personal risk.
"We want to help young people to feel more positive about themselves, as part of their healing. When we focus on the negative, it is difficult to heal. Part of the process is to help young people learn their history while focusing on the positive energies that heal so they can move forward in a more confident, participatory and contributive way," he said.
The timing, more than 35 years after the Khmer Rouge were overrun by the Vietnamese, and 25 years after the Peace Accords, is important.
"My generation has suffered so much," said the 52-year-old, who was a child soldier. "And we tend to give priority to stability.
"But young people today are different. They see stability as just one element among many other things.
They want to dream bigger, and their political landscape has changed. They are emerging politically and culturally, and deserve to have everything to take leadership in the future and bring a new face to the country.
"For the old generation, too, it's important that they can tell their stories. But if they are not in a position to look at what can be affected, it's not helpful for them," he said.
The target audience for the new musuem is three-fold, said Leslie. The first priority is young secondary and third-level students, for whom the museum should be a place to reflect and critically think about their past.
Secondly, it is for tourists, so that they can understand that there are ways in which they can contribute and make a difference. And thirdly, the organisers feel it can play an important role in the relationship with other ASEAN countries.
"Cambodia has something to teach the region thanks to the process that it has been through," Leslie said.
"More widely, at the centre, we have been working with Myanmar and the Philippines and their peace processes. The notion that Cambodia can be a country that gives back, is not just a recipient country, is a real shift in thinking."
The organisers hope that the whistle-shaped two-storey building will be near the new site under construction by the Phare Cambodian Circus, along Sok San Road.
Fundraising for the ambitious project kicks off in New York on October 19 with a special performance of The Iliad by veteran Broadway stars Bill Irwin and Dana Ivey, with support from established actors including Rachel Pickup.
Back in Cambodia, the organisers hope to build financial support by reaching out to Cambodia's young people through rock concerts, education campaigns and other events oriented towards them.
"We want them to feel that they're part of what contributed towards the museum and have ownership of it, and also that the fundraising should be part of the process, not just about collecting money," Leslie said.
"We also want to engage the 19 countries that signed the Paris Peace Accords, to see whether they will re-commit to Cambodia 25 years on from there," said Leslie.
"With the musuem, we want to accumulate the positive energy," said Ngarm. "This way we can try to absorb what is good, and look into the future knowing we have learned from the past, without getting stuck in it."