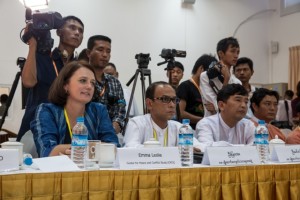 The overarching framework for CPCS' approach is anchored on the principles of demand-driven interventions that address the requirements of the stakeholders and the underlying causes of the conflict.
We apply a conflict transformation perspective to all activities, rooted in the belief that conflict is natural and presents opportunities for change and growth.
Conflicts are not something to be 'resolved' but rather to be transformed.  Through this approach, transformation at the personal, institutional and societal levels, particularly the transformation of how the conflict is understood, translate into new approaches.
A key emphasis is on the power and importance of relationships, understanding that personal relationships can expand outward and create strong foundations for movements that support peace.
One of the key facets of this approach is that conflict transformation does not provide a proscriptive response to conflict – there is no one road map to resolve a conflict. Rather, the focus is on providing new tools and skills for understanding and addressing conflict, new ways of understanding and working with relationships, and changing the perception of available choices.
Locally driven, locally owned
This approach creates space for locally driven interventions and increases local ownership of peace processes.
Through this work, we create opportunities and space for positive change and help to build educational, training and research capacities to strengthen human and material resources for peacebuilding in the region.
As with all of our work, activities are always implemented at the request of local partners. This is a critical, as it provides access to the appropriate participants, but also is indicative of each institution's recognition of the need to explore new ways to engage with the peace process.
Such endorsement by leadership creates space for more active participation, and signals that participants are actually encouraged to apply the new concepts, skills and approaches to their own contexts – from civil servants changing the way they address conflict in their community to journalists using new approaches to cover the peace process.
Presently, the focus of our initiatives is centred on the Korean Peninsula, Rakhine State and the South of Thailand. We also accompany and support the following peace processes:
Philippine Government – Moro Islamic Liberation Front (MILF) peace process
Philippine Government and Communist Party of the Philippines/ National Democratic Front peace process
Ethnic conflicts in Myanmar, particularly in Karen and Shan States, among others
Sri Lanka's political reconciliation process
In these contexts, our activities include:
Please use the navigation menu above to find out more about our activities.