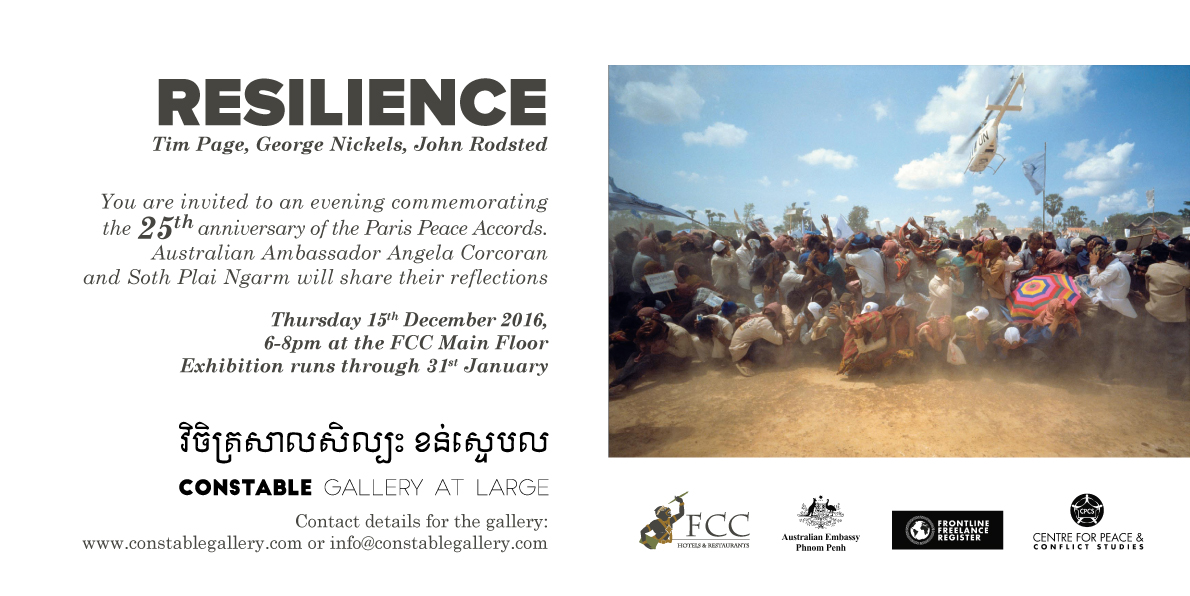 RESILIENCE Exhibition goes to Phnom Penh!
In October 2016, the Cambodia Peace Museum project together with CONSTABLE At Large Gallery created the photography exhibition, RESILIENCE, to commemorate the 25th anniversary of the Paris Peace Accords.
The exhibition celebrate the remarkable resilience of Cambodians during this period, highlighting the many ways this rebuilding took shape. RESILIENCE will feature work by three photographers who have documented different aspects of Cambodia's journey: Tim Page, George Nickels and John Rodsted.  Woven together the collection of photographs break through the technical dimensions of a peace process, to show the human story of a country coming back together after decades of conflict.
RESILIENCE moves to Phnom Penh and will be on display at the Foreign Correspondence Club beginning December 15 until January 31.  Join us for the opening, hosted together with FCC on December 15 from 6pm to 8pm, featuring reflections from Ambassador to Cambodia Angela Corcoran and Peace Museum visionary Soth Plai Ngarm.
RESILIENCE Phnom Penh English Press Release.