Based on 772 conversations carried out between November 2014 and March 2015 with 1,072 people living in six states which have ceasefires, We Want Genuine Peace presents community opinions about their direct experiences of living in conflict situations, their needs, challenges, as well as hopes for the future, all within the framework of the Myanmar peace process. Using CPCS Listening Methodology, people familiar with local contexts, cultures, and who spoke the same language (called listeners) were asked to travel to hard-to-reach communities in Kachin, Kayah, Kayin, Northern Shan, Southern Shan, and Mon states to converse with a cross-section of residents.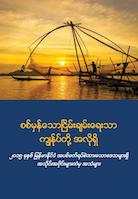 This publication is divided into nine chapters:
Chapter 1 contains the introduction as well as the summary of all findings, both the main findings across all the states and the main findings from each state. This chapter also contains CPCS recommendations to key stakeholders based on an analysis of the findings. Chapter 2 explains what listening methodology is and how it was used to obtain the results. Chapter 3 covers the evolution of Listening Methodology as it has been applied by CPCS in peace research. Chapters 4 to 9 contain more in-depth discussions of the main themes in each of the six areas covered by the research.
Lastly, the Annex contains various tables, including the overall main themes, the uncategorized main themes from each state and a summary of the answers to guide questions in each state.
The Burmese version available at the link below is a translation of the Executive Summary.