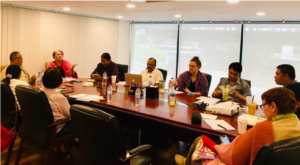 The ACTS PhD Programme will use a four-year hybrid distance-residential study model. In their first year, students will initially be in residence at CPCS in Siem Reap, Cambodia for six weeks. Participants will return after six months for another two-week residential seminar. In the second year of the programme, students will spend three two-week periods in residence. During their third year, students will spend two two-week periods in residence while also working closely online with their dissertation adviser. In the last year, students will closely consult as needed with their dissertation adviser throughout the year and return to Cambodia near the end of the programme for their dissertation defence. Generally, residential seminars will be held at the offices of CPCS. However, depending on the international experts involving in teaching during certain periods, the countries in which students in a given cohort are located, and financial considerations, some of these seminars may be held outside of Cambodia to provide students with broader first-hand exposure to peace work and peace infrastructure and contexts elsewhere.
Although students will be in residence only part of each year, the programme is carefully structured so that instruction and learning continues throughout students' enrolment. Specifically, between each period of residence, students will be given assignments to complete. In the first two years, among other subjects, assignments will include summaries and critiques of assigned readings and empirical studies, the creation of portfolios describing and analysing their peace-related work, reflections on how students' academic learning has impacted their practice, and case studies of specific aspects of students' peace work to share with others.
Although students will receive grades and written feedback on these assignments from the course instructors, after 18 months of study they will also be required to pass a comprehensive qualifying examination. This exam is an opportunity for students to demonstrate their knowledge of the field of Conflict Transformation and their ability to apply that knowledge productively in practice. Then, during the second half of their second year, students will select a dissertation adviser to help them move ahead productively with the task of developing a dissertation proposal. The deadline for approval of a dissertation proposal will be by the end in the second year. However, given the importance of ensuring that students have the opportunity to take full advantage of the feedback they receive, students that require substantial revision of their proposal will be able to receive final approval during the residential seminar at the beginning of the third year. The period remaining after the approval of the dissertation proposal will be devoted to implementing the proposed research, as well as writing the dissertation.
In addition to the above, completion of the ACTS PhD Programme will entail three further requirements. First, during their second year, each student will be required to design a significant Conflict Transformation teaching activity that makes substantial use of their general knowledge of the field, as well as reflection/research regarding their own practice. This may take the form of a series of lectures or a workshop, but other formats are also possible with the programme approval. Generally, such activities will be carried at CPCS, but other venues are possible with prior approval provided there is an effective way for CPCS to accurately assess the quality of the teaching product. Second, to broaden their professional networks and gain skills in communicating their work to others in a formal setting, candidates must also present their research at an academic conference or workshop. Finally, to demonstrate the students' capacity to contribute meaningfully to knowledge in the field of Conflict Transformation, each candidate must submit two articles for publication in academic journals, one to an international journal and another to a regional journal.