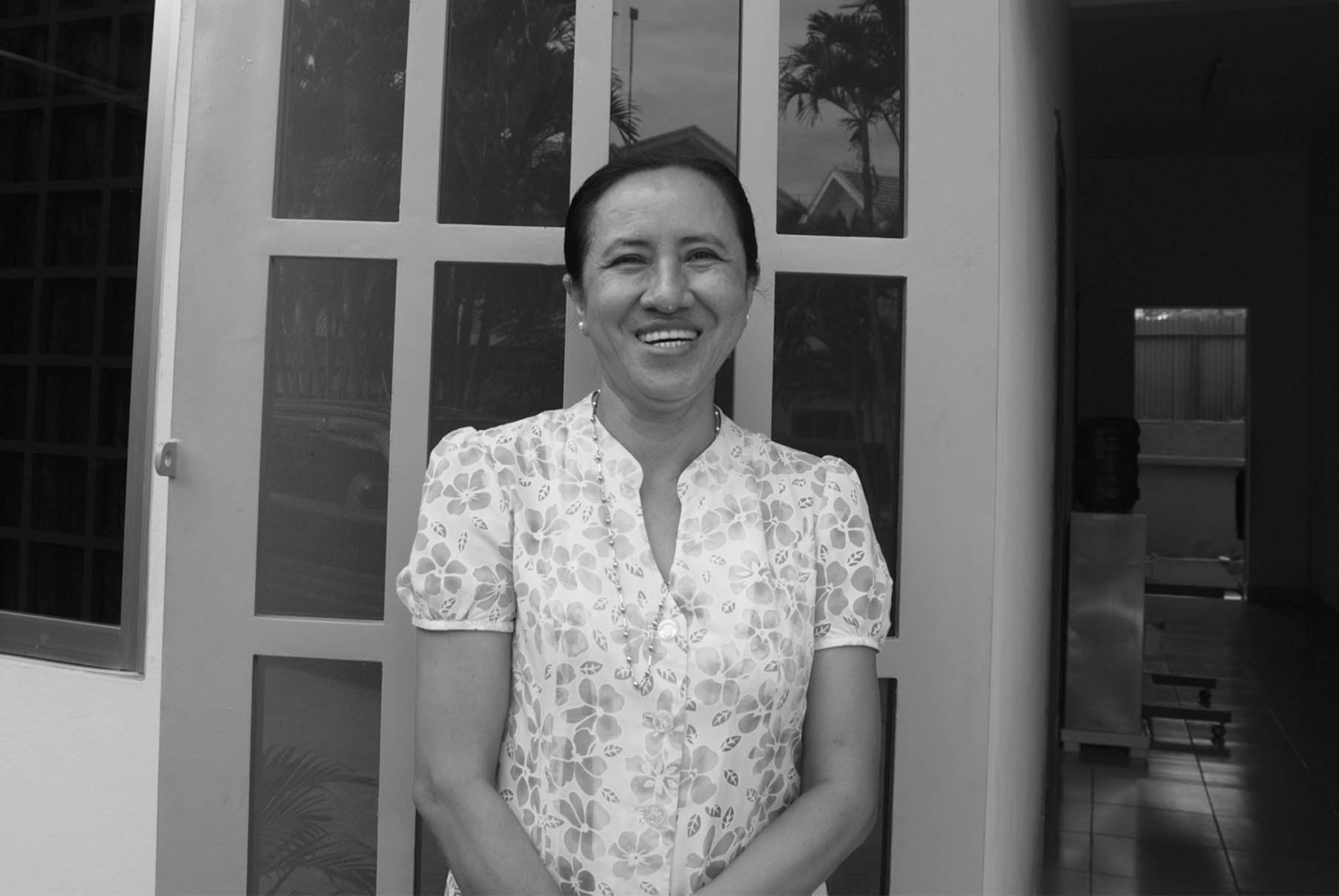 "In 2001, the former Khmer Rouge still dressed like Khmer Rouge. They didn't wear black anymore, but they wore shoes made from tires, carried things in backpack, and the girls kept their hair short. They did not talk to ordinary villagers because they believed those who were not like them were bad people – capitalists with the government." That year, Varine was sent to Udor Mean Chey, a KR reconciliation zone where former KR had difficulty re-integrating with the village people.  As an educator with the Cambodian Development Resource Institute's (CDRI) social development program, she went to help facilitate reconciliation.
She arranged a meeting where villagers and former KR shared their thoughts and feelings: "At first the man [former KR] did not talk.  But after hearing villagers speak about their fears and suffering when the KR were in power, he shared his own.  He talked about how strongly he missed his wife and son when he was sent far away to fight." These meetings allowed the communities to come together and focus on their similarities rather than their differences. "I wanted them to understand each other," she said. According to Varine, listening to each other's suffering showed the villagers and former KR their common humanity, a place to begin building trust and reconciliation.
Varine has worked as an educator with CDRI for the past ten years because, "We've [Cambodians] seen war before, and we don't want to meet it again." Using case studies identified by CDRI's research as significant issues affecting Cambodia, she teaches target groups skills to identify conflict, analyze its causes, and create strategies for its prevention and resolution. Topics range from water distribution to domestic violence and participating groups include commune officials, journalists, police, and more. By teaching participants to be critical of their own assumptions or to consider other people's motivations, she hopes to build their capacity for non-violent problem solving.
Varine works with individuals, and sometimes she feels the work "is small and may not make a big difference," but she reminds herself that change on an individual level has an important role to play. "The actions of a person can become the actions of a group." Varine believes that in order to build a country that can resolve its problems without resorting to force, a good place to start is with the perceptions and abilities of ordinary people.