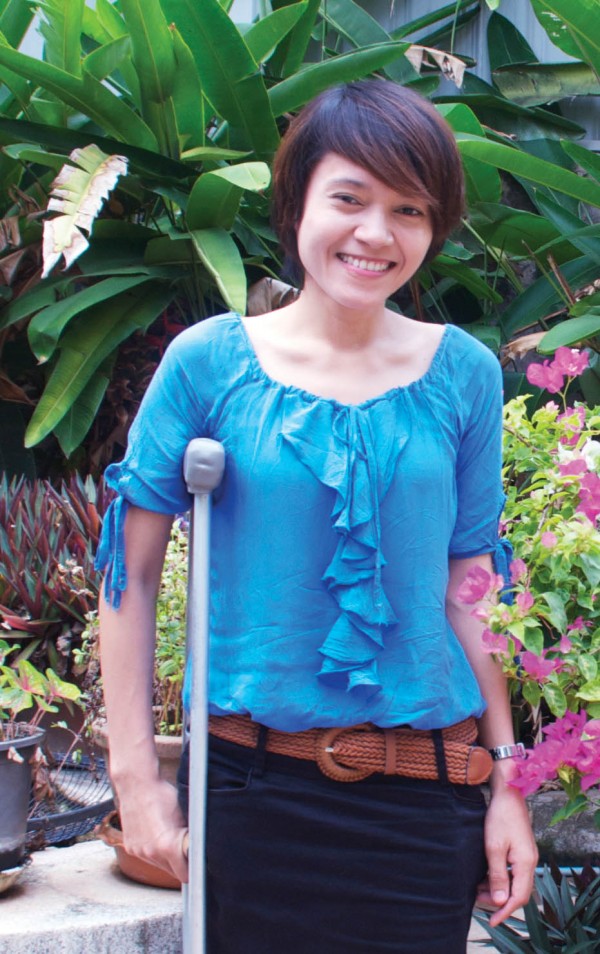 She knew she was different from the other children.  She could not play like they played, and she did not look the same: she used her hands to help move through the house. "The most difficult part is feeling shy," she explained.  "I don't want people to look at me and see only my missing leg…I am more than that. I am the same as you."
Kosal was born in 1984, the fourth of six children in a rice farming family. When she was five, she was injured by a landmine while helping her mother in the rice fields. Her leg was amputated too high to allow her to use a prosthetic, and today she walks with a crutch. Years after the incident, a staff member of the International Campaign to Ban Landmines (ICBL) noticed her at a Battambang clinic. In 1995, at the age of 12, Kosal joined ICBL as a representative of landmine victims around the world.
"I can speak. I can be an example.  I have to do something while i have the chance to."
ICBL is dedicated to eradicating the production and use of antipersonnel landmines. With the organization, Kosal has traveled across the continents to tell her story, gathering thousands of signatures to support the ban. The culmination of her and ICBL's campaigning efforts came in 1997, when 122 countries signed the mine ban treaty agreeing to prohibit the use, stockpiling, production, and transfer of anti-personnel land mines.
Today, Kosal works full time as the ICBL youth ambassador, spreading awareness in order to help countries fund mine-clearance, improve victims' assistance, and strengthen international cooperation."Everyone is crying and smiling," she said, describing a seminar attended by landmine victims.
"They are crying because they are poor and their disability makes earning a living in the rice-farming villages very difficult.  They are smiling because although they are strangers, they feel safe from judgment [at the seminar] and able to share their feelings." Kosal explained that many live in communities that assume people with disabilities are incapable of work: "many feel ashamed," she said.  In response, Kosal advocates for the basic rights of disabled people, such as the right to accessible education and to be involved in the community.
Through her work and that of IBCL's vocational training program, many more are able to transcend the stigma. For future generations, Kosal hopes that no more children be labeled "mi-kombak," no more be taught that they are defined by their limitations, but rather that they, like anyone else, have limitless possibilities.
*mi-kombak – a derogatory term for someone who is physically handicapped