Showcasing peacebuilding, building understanding
Our vision is to provide a space for Cambodians to reflect and learn about their nation's past; providing an understanding of the long history characterised by structural violence that the Cambodian genocide emerged from, while celebrating the work of peacebuilders that have helped move Cambodia past war.
Contextualisation and explanation promotes understanding and deeper reflection on the root causes of conflict and it is this niche that the peace museum will fill in Cambodia.
The museum will serve as a dynamic platform for showcasing and sharing the rich approaches and tools that have been used to promote peace in Cambodia, housing more than a repository for documents and artefacts about the past.
Through engaging exhibits such as videos, documentaries, graphic art, sculpture and remnant objects, visitors will learn and reflect on the root causes of conflict while celebrating the work of peacebuilders that have helped to positively transform Cambodian society.
Exhibits will stress that non-violent conflicts presents opportunities for change and growth. They are not something to be "resolved" but rather to be transformed.
Journey of transformation
While guests journey through the museum they will walk through both moving and non-moving images, short documentaries, graphic art, sculptors, and remnant objects. Exhibits will focus on the situation prior, during and after the war.
To finish the journey and exit, visitors will go through the 'Peace Hall', a section of the museum that will focus on learning, healing and reconciliation and is intended to be a place of reflection. This approach allows people to discover the complex and unwritten history surrounding the Cambodian genocide, with space to make sense of the history themselves.
As visitors experience the museum, they will be inspired to see themselves as peacebuilders and to reflect on how they can contribute to peace in their own context.
Embracing the past

The museum will contribute to the transformation of the ongoing national dialogue about Cambodia's conflict, allowing individuals to share and recount their experiences without fear and together create a common understanding of the past.
By facilitating this process, the museum will help alleviate feelings of shame and will encourage Cambodians to embrace their past while working for a more peaceful and inclusive future.
Linking Cambodia to the world
In CPCS' work to promote peaceful solutions throughout Asia, we have long offered the Cambodian experience as a model for experiential learning and the museum will build on our efforts to share Cambodian lessons across the region.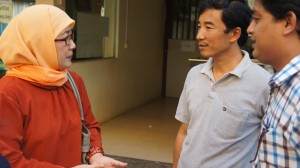 International tourists and peacemakers alike will gain new knowledge about conflict and peacemaking that they can apply when they return home.
The museum will be open to all visitors and will proactively reach out to connect with Cambodian university students and leaders from government and other sectors.
By hosting the CPCS office, the museum will have an additional link to peacemakers, activists and academics from beyond Cambodia.
Transformation through education
The Cambodia Peace Museum will benefit from CPCS's extensive experience facilitating educational initiatives geared towards conflict transformation, including:
CPCS employs methodology developed specifically for various actors from regional conflict contexts as well as those involved in peace processes to learn and take lessons from the Cambodian experience with conflict and post-war recovery.
"The museum will help alleviate feelings of shame and encourage all of us to embrace our past in ways that motivate a more peaceful future."
Soth Plai Ngarm – Preventing Future Genocide: A vision for a peace museum in Cambodia