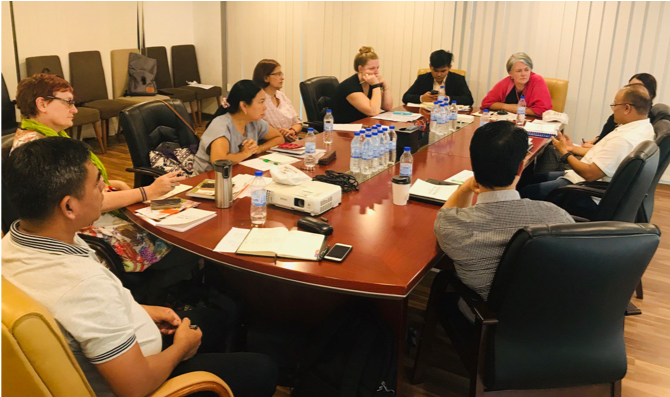 The ACTS PhD Programme is an academically rigorous course of studies designed specifically for Asian peace practitioners and scholars to build upon their pre-existing knowledge and skills and to enhance their capabilities through intensive and reflective study. More specifically, this programme has been created to assist Asian peace practitioners to effectively contribute to the development, description, dissemination and implementation of Asian peace perspectives and practices.
The ACTS PhD Programme utilises a curriculum and pedagogy specifically designed to bring together theory and practice. Upon completion of the programme, students will have developed a deep and comprehensive understanding of the field of Conflict Transformation and its practices, and be able to conduct research contributing both to practice and theory. The programme will therefore contribute to the total number of expert conflict transformation practitioner-scholars in the Asia region, and produce a more nuanced understanding of Asian conflict contexts, as well as of effective approaches to conflict transformation.
Based at the Centre for Peace & Conflict Studies and accredited through Paññāsāstra University, the programme will provide a unique combination of academic rigor and analysis of real world experience. Located in Cambodia, the students have the opportunity to learn from the countries transformation from violent conflict to a more stable peace. Such proximity ensures that professional, committed people are not drawn away from their existing work responsibilities for long periods of time in order to enhance their skills, as well as increasing the chances that they will continue their peace-related work in Asia. Students will have the opportunity to become integrated into a larger network of peace builders and scholars from many areas within their region and the broader world.
The ACTS PhD programme is based on a practitioner-scholar model. It is designed not only to produce individuals who can contribute to the field of Conflict Transformation, but also to significantly enhance their effectiveness as on-going contributors to the process of peace building in their respective contexts.
APPLYING FOR ACTS PHD PROGRAMME
Application to the ACTS PhD Programme is a two-stage process. First, students must submit the following:
A copy of their Master's degree.
A copy of their Master's degree transcript.
A copy of their resume/CV.
A personal statement describing in a maximum of 800 words their reasons for wishing to undertake the ACTS PhD Programme and their relevant experience.
A TOEFL score of at least 550 or IELTS score of at least 6.0, taken within the last 2 years.
A brief but clear statement indicating the resources they have to effectively communicate online during their non-residential time in the programme (i.e., do they routinely have access to a computer and the internet; if not, how time consuming would it be to get such access, etc.).
A copy of their passport
ID photo, 4cm x 6cm
The second stage of the admissions process for students assessed as viable candidates for the programme requires additional information to be provided, including:
A statement from their employer that they will be able to attend all the residential seminars [to be announced]:
Three references from individuals familiar with their academic skills and achievements and/or with their work as peace practitioners. Such individuals may be past professors, past or current supervisors or colleagues, etc. but should not be those who have worked or now work for the applicant. Candidates must supply the email addresses of these references, as well as the name of the organization where they work and their position title. Forms for the reference letters will be sent directly by email to references and returned directly by their author rather than through the applicant. References will be asked to attest that the candidate has not read their recommendation.
A copy of their Master's degree thesis, if they wrote a thesis for that degree.
A 1000-2000 word document outlining their current thoughts on the research they plan on conducting during their PhD studies.
An interview (via Skype if necessary).
All second-stage applicants must meet any additional PUC requirements. Please check: http://www.puc.edu.kh/index.php/admissions/graduate-programs
Submit documents to [email protected]. All candidates who have successfully passed into the second stage of the application process will also be presented to PUC for their approval of the candidate.