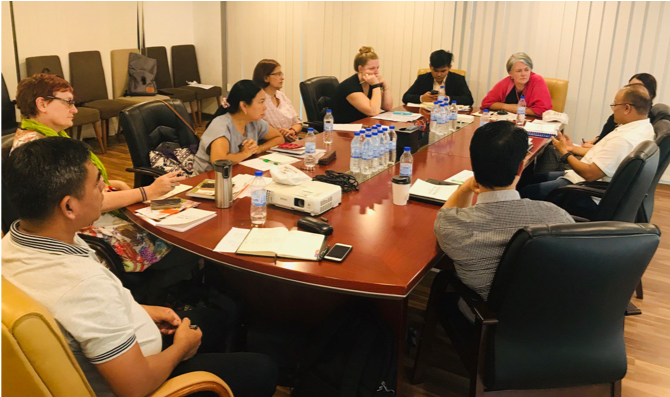 The ACTS PhD Programme is an academically rigorous course of studies designed specifically for Asian peace practitioners and scholars to build upon their pre-existing knowledge and skills and to enhance their capabilities through intensive and reflective study. More specifically, this programme has been created to assist Asian peace practitioners to effectively contribute to the development, description, dissemination and implementation of Asian peace perspectives and practices. It will accomplish this aim through expanding students' exposure to international and regional approaches to understanding and achieving effective conflict transformation, by enhancing their ability to question existing knowledge and practice in the field, and by strengthening their capacity to identify, develop and strengthen this region's unique response to the need for conflict transformation work.
The ACTS PhD Programme utilises a curriculum and pedagogy specifically designed to bring together theory and practice. Upon completion of the programme, students will have developed a deep and comprehensive understanding of the field of Conflict Transformation and its practices, and be able to conduct research contributing both to practice and theory. The programme will therefore contribute to the total number of expert conflict transformation practitioner-scholars in the Asia region, and produce a more nuanced understanding of Asian conflict contexts, as well as of effective approaches to conflict transformation.
Uniqueness
The programme is based in the students' region, which makes it more accessible to many peace practitioners (especially women). Such proximity ensures that professional, committed people are not drawn away from their existing work responsibilities for long periods of time in order to enhance their skills, as well as increasing the chances that they will continue their peace-related work in Asia.
Through the programme, students will have the opportunity to become integrated into a larger network of peace builders and scholars from many areas within their region and the broader world.
The programme will enable participants to make explicit their own implicit knowledge and experiences, as well as that of their communities, thereby contributing to both local and global knowledge in the field of Conflict Transformation.
The programme is based on a practitioner-scholar model. It is designed not only to produce individuals who can contribute to the field of Conflict Transformation, but also to significantly enhance their effectiveness as on-going contributors to the process of peace building in their respective contexts.
Based at the Centre for Peace & Conflict Studies and accredited through Paññāsāstra University, the programme will provide a unique combination of academic rigor and analysis of real world experience. Located in Cambodia, the students have the opportunity to learn from the countries transformation from violent conflict to a more stable peace.
APPLYING FOR ACTS PHD PROGRAMME
Application to the ACTS PhD Programme is a two-stage process. First, students must submit the following:
A copy of their Master's degree.
A copy of their Master's degree transcript.
A copy of their resume/CV.
A personal statement describing in a maximum of 800 words their reasons for wishing to undertake the ACTS PhD Programme and their relevant experience.
A TOEFL score of at least 550 or IELTS score of at least 6.0, taken within the last 2 years.
A brief but clear statement indicating the resources they have to effectively communicate online during their non-residential time in the programme (i.e., do they routinely have access to a computer and the internet; if not, how time consuming would it be to get such access, etc.).
A copy of their passport
ID photo, 4cm x 6cm
The second stage of the admissions process for students assessed as viable candidates for the programme requires additional information to be provided, including:
A statement from their employer that they will be able to attend all the residential seminars [to be announced]:
Three references from individuals familiar with their academic skills and achievements and/or with their work as peace practitioners. Such individuals may be past professors, past or current supervisors or colleagues, etc. but should not be those who have worked or now work for the applicant. Candidates must supply the email addresses of these references, as well as the name of the organization where they work and their position title. Forms for the reference letters will be sent directly by email to references and returned directly by their author rather than through the applicant. References will be asked to attest that the candidate has not read their recommendation.
A copy of their Master's degree thesis, if they wrote a thesis for that degree.
A 1000-2000 word document outlining their current thoughts on the research they plan on conducting during their PhD studies.
An interview (via Skype if necessary).
All second-stage applicants must meet any additional PUC requirements. Please check: http://www.puc.edu.kh/index.php/admissions/graduate-programs
Submit documents to [email protected]. All candidates who have successfully passed into the second stage of the application process will also be presented to PUC for their approval of the candidate.
THE ACTS PHD FACULTY AND SUPERVISORS
Dr. Tania Miletic is a Research Fellow with the School of Social and Political Sciences. Tania is currently engaged with the 'Australian International Conflict Resolution Project', undertaking research in partnership with DFAT, that aims to provide a comprehensive analysis of Australian diplomatic experiences in support of peace processes since 1990. Tania has over 15 years' experience in research and teaching, specialising in peace and conflict studies as well as extensive applied experience on peacebuilding programs in the Asia Pacific region.
From 2005 – 2012, Tania worked with the Centre for Peace and Conflict Studies, a peacebuilding organisation based in Cambodia. Tania is a visiting researcher on a conflict resolution program in mainland China. Her recent PhD focused on understanding contemporary conflicts in China through exploring the perspectives of its emerging leaders. Tania has taught on conflict resolution programs in Australia, Cambodia and China. Her research foci include peacebuilding, conflict resolution, evaluation and monitoring, international development and refugee and immigrant mental health. Tania has consulted for a range of international organisations focused on peacebuilding, and is locally engaged with community-led initiatives. Tania has a background in psychology, having previously worked with the Centre for Global Mental Health, Melbourne School of Population and Global Health and the Victorian Foundation for Survivors of Torture (Foundation House Inc.) 
Chona R. Echavez is currently the Director of the Research Institute for Mindanao Culture. She has been working as a researcher for the past 30 years and in conflict and post-conflict countries for more than than 20 years and almost eight years of which were spent in Afghanistan. She worked in various capacities as Sr. Researcher to Deputy Director and Interim Director of the Afghanistan Research and Evaluation Unit (AREU). She also served as a consultant to a number of international organisations and she has worked in Cambodia and in the Pacific Island Countries.
She once served as a representative to the Researching for the Solutions to Violent Extremism (RESOLVE) Network, a global consortium of researchers and research organizations whose work focuses on understanding the drivers of vulnerability and sources of resilience to violent extremism. She was a presenter on the topic "The Gender Lens on the Prevention of Violent Extremism in Afghanistan" based on her study with co-authors on Masculinities and Gender Inequalities in Afghanistan in a seminar organized by the RESOLVE Network in Addis Ababa Ethiopia.Together with communities and institutions in the Philippines, Cambodia, Pacific Island Countries, and Afghanistan, Chona helps facilitate in designing, managing and implementing M & E and Impact Evaluation Studies.
She has a Ph.D. in Demography from the Australian National University in Canberra and a Master's degree in Development Communication with a cognate in Rural Sociology from the University of the Philippines at Los Banos. She completed her Bachelor's degree in Agriculture from Xavier University, Cagayan de Oro City, Philippines.
Dr. Sin Meng Srun is Senior Vice President for Academic Affairs of thePaññāsāstra University of Cambodia. Dr. Sin received Doctor of Philosophy in Forestry Economics from the University of Georgia. Prior to joining PUC, Dr. Sin was an Emeritus Professor at Humboldt State University, California.
GABRILLE MICHAELA WILDE GRANT
Gabrielle Grant is originally from North Carolina, USA and holds a PhD in Conflict Analysis and Resolution from Nova Southeastern University, USA and a Masters degree in Conflict Analysis and Dispute Resolution from University of North Carolina- Greensboro, USA. She also holds a graduate certificate in Qualitative Research from Nova Southeastern University.
Dr. Grant has worked at different universities and organizations focusing on research, advocacy, and violence prevention. She has served as a facilitator, practitioner, and researcher from the community to the international level, and has published on topics such as power, mediation, appreciative inquiry, structural violence, and genocide prevention. Prior to joining CPCS, Dr. Grant worked in Southeast Asia for many international non-profit organizations as a researcher consultant, working on issues such as access to justice for women and empowerment of marginalized populations.
Dr. Gilberg Trond is the Dean of Social Sciences and International Relations at Paññāsāstra University of Cambodia. Dr. Gilberg holds a PhD in political science from the University of Wisconsin, Madison. He has an academic career that goes back forty years, in the United States, Europe, and Asia. He is the author of several books and several dozen scholarly articles, and has participated in many international conferences.
Dr. Gilberg's fields of specialization are international relations, comparative politics, and the study of transitional societies. He is the Dean of the Faculty of Social Sciences and International Relations and Director, Peace and Conflict Studies Institute at PUC
Raymond Leos is the Dean of the Faculty of Communications and Media Arts at Pannasastra University of Cambodia. He is also a Senior Advisor to the National Assembly of the Kingdom of Cambodia.
Since 2002, Mr. Leos has been a consultant for numerous development projects in Cambodia, including those funded by the United Nations Development Program (UNDP), Asian Development Bank (ADB), The Asia Foundation (TAF), European Commission, DANIDA, Dan Church Aid (DCA), and Forum Syd.  He has also served as a technical advisor to various governmental bodies and local NGOs, including the Ministry of Education, Youth, and Sports (MOEYS), Advocacy and Policy Institute (API), Cambodian Defenders Project (CDP), and the Khmer Institute of Democracy (KID).
His current academic and professional interests include access to information/ freedom of information, freedom of expression, media law and ethics, journalism education, conflict resolution and multimedia ineducation.
Mr. Leos serves on the board of the directors of several local NGOs, including the Open Institute Cambodia and the Cambodian Defenders Project.  He is also chair of the Events and Program Committee and a member of the Corporate Social Responsibility Committee of the American Cambodian Business Council (AMCHAM), and a member of the Cambodian Society of Comparative Law.
Prior to coming to Cambodia in 2002, Mr. Leos worked in the United States as a journalist, freelance writer and as a lawyer specializing in criminal law, media law, intellectual property, labor law, and civil rights issues.
Mr. Leos holds a J.D. from the University of California, Davis (UC Davis) King Hall School of Law, an M.F.A. from the Graduate School of Film and Television at the University of California, Los Angeles (UCLA), and a B.A. with honors in History from Claremont McKenna College.
Emma is an Australian–Cambodian who has worked on conflict transformation and peacebuilding throughout Asia since 1993. Since moving to Cambodia in 1997, Emma worked with the International Campaign to Ban Landmines, the Working Group for Weapons Reduction in Cambodia and supported a number of Cambodia peace initiatives – the latest being the launch of Cambodia Peace Museum. In 2005 she launched a Master's Programme for the Asia region in Applied Conflict Transformation Studies.
In 2008, she established the Centre for Peace & Conflict Studies, which she currently leads as Executive Director. Emma also serves as a consultant for Conciliation Resources on Philippines peace processes, and supported the peace talks between Government of the Philippines and the Moro Islamic Liberation Front (MILF) as a member of the International Contact Group (ICG) since 2011. She observed the Myanmar peace process as an independent observer, in particular supporting the talks of the Karen National Union (KNU) and the All Burma Students Democratic Front (ABSDF).
Emma teaches mediation courses at the Folke Bernadotte Academy in Sweden for the UN Department of Political Affairs. She holds an M.A. in International Development and an Honorary Doctorate in Education.
In 2005, she was one of the 1,000 women nominated for the Nobel Peace Prize. On June 13, 2016 Emma was awarded a Member of the Order of Australia (AM) for "significant service to international relations through the facilitation of a network of conflict transformation and peace practitioners in the Asia-Pacific region". The Order of Australia recognises Australian citizens and other people for achievements or meritorious service.
Ngarm is a resource person/consultant/advisor for Centre for Peace and Conflict Studies (CPCS) on Program Strategies, Conflict Transformation Skill Training, Research technical advisor for Listening Projects in Myanmar, the Philippine and Southern Thailand. Develop and train in Dialogue facilitation skills and techniques for Civil Society and government officials involve in Peace Process in Myanmar, from 2013 to present.
Ngarm founded the Friends Economic Development Association (FEDA) and is currently the director. FEDA assists in implementing sustainable community-based development projects for impoverished, rural families in Battambang Province, Cambodia. He has also authored several publications including Cambodia Reconciliation: A Reflection on Justice and Reconciliation Issues and Challenges for the past 25-Years and Cambodia Country Report: Searching for Peace in Asia Pacific
Ngarm is also the Program Officer of the Cambodian Centre for Conflict Resolution (CCCR), Cambodia Development Research Institute (CDRI) that developed a conflict resolution program for Cambodia. He planned, organized and conducted a series of training workshops in conflict resolution and peace building for development practitioners and peace activists in Cambodia. Organized and trained the Provincial Election Commissions in conflict management prior to the 1998 General Elections. Implemented and facilitated a workshop for Provincial Governors and Secretaries of State on public policy and conflict prevention. Developed a Conflict Resolution Training Resources Centre. Produced four-volume Buddhist Handbook on Conflict Resolution in the Khmer language. Networked with institutions, organisations, and individuals at local, regional, and international levels. Provide technical support to conflict resolution and peace initiatives upon request.
Presently, Ngarm serves as CPCS' resource person in the program focused on Rakhine conflict and Rohingya issue and currently serves as faculty member of the CPCS programme on Applied Conflict Transformation Studies.