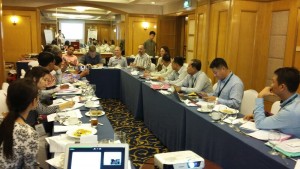 Exposure visits and peer learning opportunities are essential for shifting attitudes and perceptions about "what works" to transform violent conflicts. This is especially beneficial for military and armed groups, who may be more open to learning from peers, compared to civil society organisations.
Exposure visits are designed to work with a small group of participants and bring them out of their own setting to a different environment, usually outside of their own country. They provide reflective spaces for participants to explore how examples from the trip could be applicable to their own peace process.
Each exposure visit is tailored to the participants and purpose of the trip. CPCS exposure visits include senior members of the Myanmar armed forces, the Tatmadaw, ethnic armed group leadership, journalists and representatives from civil society. Destinations include the Philippines, Aceh in Indonesia, and Sri Lanka.
Participants generally visits key institutions such as government ministries, military offices, community-based organisations, negotiating panels and parties to ceasefires or peace agreements.