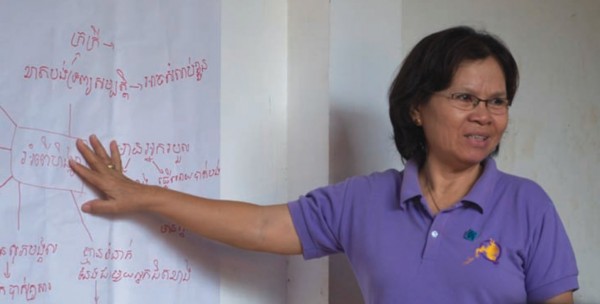 By 1970, Thavory could not remember how many times she had taken refuge in trenches to escape the American bombs.
She turned 15 that year and the Khmer Rouge revolution had just reached her village in Kampong Thom.
They recruited her and other village youth to help further the movement: "At night I traveled to give speeches at surrounding villages.  I spoke about the injustice of the carpet bombing, about the capitalists taking all the money while the farmers did the work, and how we should rise against Lol Nol and the capitalist suppressors."
Thavory became disenchanted with the movement when the KR mobilisation began – when child soldiers were sent to the front lines of the fighting and her 16-year-old younger brother, a KR soldier, died of malaria.
She had lived in Phnom Penh for only one year before the KR overran the capitol.
Thavory was evacuated with the rest of the population and sent to work in the mobile youth units digging irrigation dams: "Working under the hot sun led to skin diseases.  Sometimes I thought I would rather die than suffer through the [incessant] itching."
When the country came under Vietnamese control, she explained how violence echoed throughout communities: "Some students carried guns to schools to show off their family status. Men would fight over traffic accidents. No one felt safe."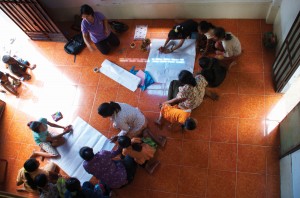 Her experiences led her to join the Working Group for Weapons Reduction in 2001. With them, she helped write a national curriculum on peace and disarmament and travelled across the country to train teachers on weapons law and methods to teach young people about the dangers of small arms. This work also led her to countries such as Peru, Albania, and Germany to share her experiences with her transition from war to post-war.
Today, Thavory is the executive director of Khmer Ahimsa, a non-governmental organization advocating non-violent resolutions to local conflicts. Through conducting workshops on issues ranging from domestic violence to land advocacy, Thavory hopes this type of education might undo the tendencies towards violence that she has long witnessed.
If given the opportunity to advise the young generation, Thavory says, "Life is a cycle. If today is hard, tomorrow will be easy, and if today is easy, tomorrow will be hard.  You must be patient because everything impermanent. Things can always change."