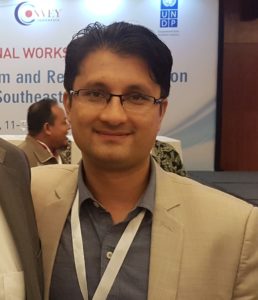 Ahmad Rashid Watanpahl
Ahmad Rashid Watanpahl works as a programme analyst in UNDP Afghanistan's Governance Programme Unit responsible for the management of the peace and reconciliation portfolio. Previously, he has worked with NCA as head of peacebuilding and conflict mitigation portfolio, senior partnership coordinator with Oxfam GB, planning and advocacy manager and programme director with Sanayee Development Organization. He has served as a Steering Committee member of Afghanistan's biggest civil society network (ACBAR) for two consecutive years. As a civil society activist, he has remained steering committee member of the Afghan People's Dialogue on Peace Process. He is also an active member of Action Asia Peace Network. Overall, he has eight years of experience working in the field of peacebuilding and conflict transformation. He has completed his Bachler's in National Economics from Kabul University and earned a master's degree in applied Conflict Transformation Studies from Pannasastra University of Cambodia. He is currently enrolled in a Doctoral programme run jointly by the Pannasastra University of Cambodia and Center for Peace and Conflict Studies. He is focusing his doctoral research on drivers and narratives of violent extremism in Afghanistan.
Abstract
Understanding Drivers and Narratives of Violent Extremism in Afghanistan
Despite the prevalence of violent extremism, the escalating violence and increased recruitment of people into violent extremist groups, very little research is available in Afghanistan which focuses on underlying reasons for recruitment by extremist groups and the specific narratives violent extremists use as recruiters and the recruits. The overall goal of my dissertation is to develop a deeper understanding of the profile of the recruits of violent extremism and how various narratives are used by extremist groups to recruit new people. The aim of this research is, based on this understanding, to suggest ways of transforming these dynamics and start to dismantle the systems that contribute to violent extremism in Afghanistan.
The reasons for extremism can range between economic, political, psychosocial, cultural, and ideological factors that can contribute to a person's radicalization and adoption of violenCE. In my research, I look at economic, political, cultural and ideological drivers and narratives, and see if all or some are relevant to the context of Afghanistan. The questions that guide my research include, but are not limited to; 1) what is the profile of the recruits of violent extremists, 2) what are the underlying reasons for being recruited, 3) What are the strategic narratives of the recruiters that convince the recruits to join the extremist groups/the stories of the recruits regarding their vulnerabilities that made them susceptible for recruitment, 4) what are existing policies and programs to counter violent extremism from the perspectives of the stakeholders, what are the gaps in their implementation, and how can they be addressed?
The theories this research rely on include the poverty theory, the game theory, the conspiracy theory, the relative deprivation theory, and the greed and grievance theory. The design of the research is qualitative and utilizes a case study approach. The case study involves the study of violent extremism explored through several cases within a bounded system. My focus is on qualitative data as I  am mainly working on issues of violent extremism, getting feedback, hearing views of specialists and collecting in-depth information on a relatively few individuals and within a limited setting. The research involves 40 people that includes active combatants/insurgents, ex-combatants, civil society members, government staff, politicians, and researchers.