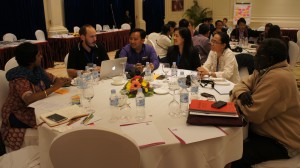 The ACTS Master's Programme is a unique blend of practical work, action research and theoretical study. By combining these elements, the ACTS course enables participants to develop knowledge and skills that will allow them and their organisations to deepen their understanding of the work they are involved in and increase their ability to work efficiently and creatively.
Throughout the course participants will begin to investigate and find answers to key issues they are facing within their work and make their knowledge and experience explicit, thereby contributing to both local and global discourse on the subject.
Work done on the ACTS courses will benefit organisations as well as the individual. We encourage participants' organisations to provide support where necessary and to play an active role in the action research.
Action research papers from ACTS students are regularly published by CPCS to facilitate dissemination of knowledge and experience in the region.