The Design: A path of alternatives
The initial conceptual design for the Peace Museum blends Cambodian cultural traditions with principles of conflict transformation to create an inviting and dynamic space.
Spiral structures symbolise a path of alternatives as visitors journey through the museum. Visitors can walk the circle of the spiral, a path detailing the pre-conflict and conflict periods of Cambodian history, but must make a conscious decision to leave the spiral and enter the ramp to the Peace Hall, which documents the efforts of peacebuilders in post-conflict Cambodia.
Venturing out of the conflict spiral and into the Peace Hall, guests will enter the section of the museum that will focus on learning, healing and reconciliation and is intended to be a place of reflection. The Peace Hall will also be the platform for sharing the rich approaches and tools that have been used to promote peace in Cambodia. It is here that inspiring stories will be shared to encourage visitors to engage in peace work themselves.
Tradition & innovation
The design of the building is grounded in Cambodian culture, seeking to incorporate local practices into the architecture.
The building's water system is designed to mirror concepts of ancient hydraulic mechanisms that sustained the Khmer empire, whilst large windows and doors emanate openness.
To promote environmental sustainability, the design relies mostly on natural light, using a succession of wall and window sequences to control the temperature and prevent the direct radiation of sun while allowing in light. Solar panels provide the primary source of energy.
By highlighting local connections to nature and identity, the building's space begins to facilitate a communal process of reconciliation.
The Plan: Realising the vision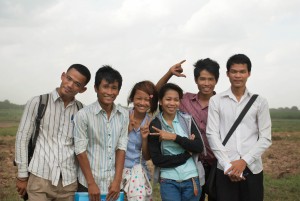 Below are the key steps involved in realising the vision of Cambodia's first Peace Museum.
CPCS has completed phase one of the Peace Museum project and is currently engaged in phase two.
Phase I: CPCS has commissioned a master plan from an international museum designer and explored legal options for ensuring the long-term sustainability of the museum.
Phase II: CPCS will embark upon an extensive planning process which include the following elements, among others:

Feasibility study
Business plan
Schematic design (including testing of museum story lines)
Design development for the site and exhibits, including acquisition of artifacts and images
Requests for proposals, bid process and selection of contractors and others
Phase III: Construction of the facility and exhibits.
NEWS & UPDATES
SIGN UP FOR OUR NEWSLETTER!
SUPPORT THE PEACE MUSEUM!
"The museum will celebrate Cambodia's journey and the resilience of Cambodians that have moved the country past war. Visitors will be inspired to become actors for peace and apply what they have learned when they return home."
Emma Leslie – CPCS Executive Director