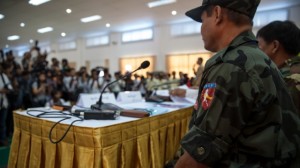 CPCS works with people from throughout Asia and has conducted activities in Afghanistan, Sri Lanka, Nepal and Cambodia. We currently provide in-country support to ongoing peace processes in Myanmar and the Philippines while continuing to work with peacebuilders from across the region.
Our staff either serves as observers to the talks and negotiations or in the facilitation of workshops and trainings on strategic planning for talks. Through such activities, CPCS contributes to the development of stronger and more effective skills in negotiation, conflict analysis, conflict-sensitive reporting and conflict transformation work in general.
Exposure visits
We also organise exposure visits for key actors to other conflict areas throughout the Asia region for experience-sharing and expanding comparative knowledge.
CPCS values Cambodia as its home base, recognising the country as a learning base with a wealth of conflict transformation experience and knowledge. While we do not currently undertake peacebuilding initiatives in the country, we utilise Cambodia's rich post-war history and reconciliation efforts as a learning base for other countries, as well as provide support to other Cambodian organisations focused on local peacebuilding initiatives.